Prospects for the Property Market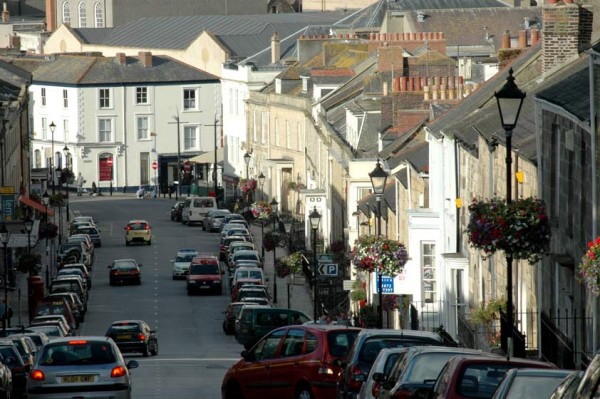 A recent Report by Vickery Holman takes an overview of the prospects for the property market. Whilst an element of this stuff is puffery, the data is usually good and the description of trade perceptions really useful in gauging how things are going, and who's trying to stimulate what!
Two thoughts come to mind – the significant availability of good quality office space in Truro and its competitive pricing means that this would be a good moment for planners to be strongly encouraging the return of converted residential property back to residential use – there is demand for housing, not least in town centres and fringes, and the returns on a modestly set residential rental are significantly better than on an empty office! This might also be a better option for stimulating construction than Mr Pickles' ill-fated extension klondike, which seems to be falling flat on its desperate face!
The critical issues here are what shall we do with the lovely Edward Street and Castle Street – both have lost several properties to offices which, by modern standards of work place and competitiveness, are substandard. However, these streets, and others around town, are excellent housing, likely to remain modestly priced and well-related to the town centre.
There are a singificant number of former dwellings over shops, and the possibility of more being convertible. By and large this is under-utilised space which depopulates the town, reducing economic resilience and preventing a good mix of social and economic interplay which can very positively influence a healthy and vbibrant town centre.
Perhaps the biggest single challenge is to ask what is to become of Lemon Street. The two surgeries have been a catalyst for the professions and ancillary services for a couple of centuries. We have seen a major residential refit qwuite recently, and this may be a signal for more. Conversion to apartments, and planning policies which project such uses, may be the best way to positively manage a transition in function for our finest street – with a surplus of good quality office accommodation available (including in Lemon Street) this could be the right moment to set out a future vision for safeguarding the heritage and invigorating the economy, without laying a block on a blade of grass!
What are known as 'windfall' sites (including conversion of offices to residential) can be counted into Local Plan targets, reducing land-take and reinvigorating depopulated town centres which are needing to reinvent themselves in light of the internet
.A second point is to take stock of the implications of Tesco's decision to withdraw from 100 development projects and to declare that the 'Space Race is over, the internet's the place to be!' That will clearly have a material impact on planning decisions, fulfils what many of us have been predicting, and raises the challenge about how internet purchased goods will, in future, be distrbibuted to customers – challenging further the current self-fulfilling prophecy of a 'managed retreat from the rural road network'.
Truro has one empty (and hidden) small supermarket (the former Somerfield). The furore over Waitrose and the continuing conviction amongst many people that, whilst a Waitrose would be a good business to have in Truro, it should not be constructed on good farmland, in what the planning Case Officer described as 'open countryside' – it should be in the town – the land around Carrick House being an excellent site. But, if the 'space race' is over then, with the supreme leader of the market place losing millions and immediately re-directing its corporate strategy towards the internet, then what should Truro's priorities be in terms of food shopping? The existing provision suddenly seems quite sufficient (even if one has to pay to park at Tescos!)? Is this a 'flash in the pan' or is something significant happening?
One thing is certain and that is uncertainty! Nobody can ever predict how an economy is going to refresh itself and emerge from recession – the current tired reliance by Mr Osborne and others on housebuilding to 'kickstart the economy' does not convince many – least of all the over-burdened construction industry (over burdened with debt and the cri de couer from the Chancellor to worsen that debt by taking on the 'kickstart' challenge). It is more likely that economic revival will come from innovation and adaptation to new circumstances – the new BoradBand infrastructure which gives Cornwall & the Isles of Scilly a temporary 'edge', coupled with the pressures from climate change to reduce carbon footprints, to conserve materials and energy and to alter lifestyles and economic expectations, may be the platform from which the stimulus for economic revival comes.
The University may plaster the sides of buses with its great success but it is high time we saw direct, productive inaction between academia and Cornish business – new ideas, new skills, new activity. And then, there are the so-called 'creatives' – those companies and individuals who catch the eye, open up markets, drive products and services and excite the producers and operatives –
How much of this latter vision requires extensive new building? To what extent would new (and usually very bland) new building contribute to the values, opportunities and perceptions which will underpin Cornwall's future, either as a community or as a producer with style and marketability? Is the Local Plan more of a tired old repetition of sagging mantras or a vibrant, well-informed platform for substantive, meaningful and sustainable development.
Indeed, should we be really bold and redefine what we mean by development – rather than proscribing steel, glass and block (with some St Issey and De Lank decoration, to salve 'local distinctiveness'), should we see development as being about reaching fulfilment, attaining excellence, making a lesser impact on the natural and historical environment, inspiring and stimulating people to imagine and realise new ideas, about applying high principles of humility to the things we do and how we do them? Ooooooh!
Both these examples show how the market is being adjusted by the internet – demand for office space is affected by internet efficiency – more and more people hot-desk, operate peripatetically or work from home –
Which all begs the question – if the plan period is twenty years, how many of those years is the plan going to be useful for – about the next 12 months it looks like – material conditions are changing rapidly!
This article is sponsored by the Hendra Health Store & Clinic.

More from Reports and Opinion
Post Comment