Chairman's Report – November 2012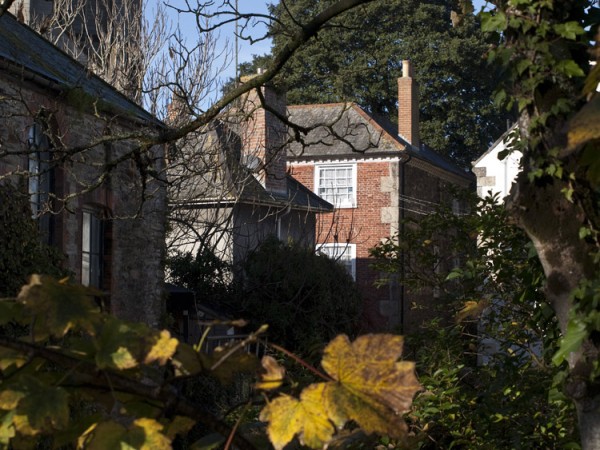 Last week I received a letter from Scot Gilchrist who is visiting relatives in New Zealand. When the Duke of Cornwall visited Wellington on his current tour, during his Jubilee 'walkabout' (not an Aboriginal version!), Mr Gilchrist (who was wearing a Fowey Yacht Club tie, which includes the three plumes of the Duchy insignia!) suggested that 'he ceased selling Duchy arable land to the likes of Waitrose!' The Ducal response was: '…a dismissive humph!'
'A couple of minute later', writes Mr Gilchrist. 'Mrs sticks out her hand with a 'Hello!'. My reply was to ask her husband not to sell Duchy arable land for supermarket development. Her reply was 'Oh!' Mr Gilchrist concludes: 'I don't suppose either of my brief contacts would have the slightest effect, but at least I felt better for the brief encounter'.
Well! A 'Humph!' and an 'Oh!' in New Zealand is more than the entire campaign to stop Waitrose got after 9 months campaign. Mrs Carlyon has, over the years during her daily post-breakfast 'telephone briefing' always drummed into me 'Time and reconnaissance is seldom wasted!' So, well done Mr Gilchrist! The scarring of Truro's ancient and precious landscapes has a truly international dimension.
Indeed, the value of Tregurra Valley has been revealed to an even greater extent by the archaeological excavations which precede the development. A Stone Age field system, overlaid by a medieval system and later by the present 18/19th century system has been mapped, and a significant 'causewayed enclosure' has been discovered at the lower end of the site, close to Trevellas Stream. Most excitingly, amongst decorated pottery shards has been found a slate tablet with designs echoed on the pottery on one side, and an etched grid which looks very much like a rough chess board (although the purpose cannot be gauged). An archaeologist described this tablet to me last week as the most important find for fifty years in Cornwall. There is a possibility that the enclosure is, in fact, a henge.
The investigations clearly demonstrate that this is an ancient landscape of cultural significance – information which was not available until the archaeology was carried out. It must have been good quality land or else the Stone Age farmers would not have enclosed it – they had plenty to choose from, and the adjacent water supply must have been a factor.
Two questions arise:
1. Should archaeological investigations precede determination of planning applications?
2. Should the current investigation at Tregurra Valley be extended to see what else lies there?
No wonder this is an international issue!
The Neolithic 'find' – the squared 'board' can be easily picked out.
Giles Blomfield.
When I was about thirteen I was invited to visit the Blomfield house at Calenick. I was amazed to find a house in which the family slept downstairs and lived upstairs. That was my first experience of Giles – he was warm, distant, silent and talkative – not for the last time, he altered my perception. In his house was energy, family, comfort and a search – the sense of search – looking back – was in the air – a restless impatience, a quick creativity. Not long afterwards I heard him speak about SHELTER – a new charity to combat housing poverty. He led from the front and was astute at bringing the issue to the fore. It again caught my attention and has continued to so ever since.
Long afterwards, in the 1980s, as I began to become actively involved in Truro's public life, and to discover that strange, alchemical process of instinct blending with intellect, passion with logic, that gives rise to political awareness, I joined Truro Civic Society. It was Giles that attracted me – he was at his peak, bristling with ideas and momentum, angry and creative, funny and full of affection for everything around him – nature, Truro, buildings, space, people, churches. I recall him discovering that the County Surveyor, Brian Mansell, had ordered the granite pavement slabs of Lemon Street tobe 'scarified' – complaints had been received about people slipping, and roughening the surface seemed a good solution – until Giles marched into Mansell's office and started unleashing an intense, closely argued, excellently referenced and passionate argument about integrity in the Conservation Area – scarification halted. You can still see the scars, and we have Giles to thank that such a draconian approach was literally stopped in its tracks. I remember at the next TCS meeting he laughed and laughed.
During his Chairmanship he created opportunities for young people to become involved in the Society, drew in new architectural blood and raised the reputation of the Society. Then one day, quite suddenly, he announced that he was retiring – I think he had, at that time, received an appointment to be the architect to Canterbury Cathedral.
As time passed and I got more established on Truro City Council, we got to know each other better. He was a Newlyn boy and berated me for my inland ways. We'd spend happy half hours talking – I don't think we chatted – and we sometimes got quite heated – but laughter was never far away; he was always ready to mock himself, and to act his way out of being too pompously serious – he offered me an insight into real communication. He was also vigorous – waving his stick as he strode by from Daubuz Moor, intent on his purpose, driven from within and intensely observing. Occasionally, nadvertently, I would see him draw something – his style was quick, firm, linear and expressive – always something of a flourish, but with classical restraint and not a little eastern influence I sometimes suspected.
In much later life Giles and I found a common thread in poetry, which surprised me. He was generous in his comment on my work, and after our last encounter I made a poem for him which appears in the book TRURRA! – and rightly so, because, for me, Giles was an intrinsically nervously, exciting, insightful, elemental part of the Truro I feel part of – and just because he's gone does not mean that his observations – for instance, about the great diversity of paving materials and styles which interact and contrast underfoot in our street – his voice – 'I haven't got time to talk to you – I'm too old – I'm leaving it all to you – cheerio! I've got to get my paper!' – they remain as echoes, inspirations – I shan't miss him, but rather carry him about with me, prod an occasional cob wall at Eden, sense his intense intelligence in the Baptist Church in Chapel Hill, stride across Daubuz Moor, whose inner life – not always peaceful – resonated in his voice, in his words and from his great enjoyment of being alive.
Development
Tolgarrick has been postponed for a month after some technical shortcomings in the meeting. See here
Langarth remains controversial because the sewage question has not been satisfactorily resolved.
The Waitrose/Park & Bride scheme drags inexorably towards early blocks being laid. There is an great sadness about Truro over this project – people remain despondent, feeling that, no matter how hard we try, how rationally we object, how we come together to give expression to the human voice of the community of Truro, there are forces ranged against us which are inescapably there but hard to see, agendas which we don't understand, and – in this particular case – a disillusion because a man whom we have come to sense was wellrounded and sensitive in his views about development and our relationship with nature and rural life, is turning out to be a hypocrite – I've found, in my conversations with people all around Truro and in many parts of Cornwall, a matter of deep distress – it's not just about land or farming or development – it's about trust and faith and many people are assailed with doubt.
The Trafalgar Roundabout and by-pass works (including the absurd right hand bus turning across the northbound carriageways into Quay Street) are proceeding. You will probably have noted that I have recently been appointed to the Council's 'Cabinet' as Transport Portfolio. It grieves me to know that, over the course of the next few months I shall be responsible for works which I consider to be irresponsible in concept. I console myself by asserting that, whilst I object to the scheme, as it is going ahead notwithstanding, it is important to ensure that the best possible job is done. It's not much of a consolation, but I'm clinging to it!
The Core Strategy has been recommended by Cornwall Council's cabinet to Full Council (December 11th) to be endorsed prior to submission to the Secretary of State. I have arrived at the view that the argument about housing numbers, vital though it is, has distracted many people from examining the document itself – it will be tested eventually by an Inspector to see if it is 'sound' (whatever that means!!!). It has a central strategic objective, to respect and enhance Cornwall's character by working with the dispersed pattern of small settlements, celebrating the interaction between towns and country and promoting high standards of design which find their foundations in Cornish expressions.
However, fine strategic words are belied by policies which centralise development, facilitate volume housing developments and fail to stipulate materials or design values, and, critically, fails to safeguard Grades 3a and 3b farmland – our most important agri-resource, and one of national significance. Economic policy and land-use policy seem to be moving away from each other, whilst a focus on climate change and new technology means that overpopulation of Cornwall will inevitably undermine economic prospects, reduce the quality of community life and challenge our environment – which is our greatest economic asset. The Core Strategy is internally contradictory and far from 'sound'. It is not an holistic land-use strategy, but rather a developers' charter, a handbook for exploitation.
The cycle path through Coosebean woodland behind Malabar is proceeding. After anxious and quite justified complaints from residents we have agreed a reductive solution to concerns about over-lighting and stressed the need to respect the 'gateways' between town and country.
I am hoping to be able to advance the case for the Claremont Terrace Halt. I understand that interest in the scheme, and support for it, is growing in Truro. Cornwall Council is moving out of Carrick House and this will begin to move forward towards redevelopment. I consider that any redevelopment schemes which occur on this very substantial area should be directly and positively linked to development of Claremont Terrace.
I have fought (and probably lost) a battle over Old County Hall. I believe it should remain within the Council's ownership, as the campus represents the only real opportunity, should it be required in future, for the Council to expand its facilities in Truro. If it is sold then I believe it should be sold to achieve a public benefit – I consider it a very poor site for an hotel, and I remain critical of the manner in which the matter has been handled. The proposition for a residential care facility, including 'nursing beds' which could alleviate bed blocking at Trreliske, seems so much more useful than a 5 Star Hotel – and those who designed, built and paid for the building intended it to be useful, as well as beautiful.
Truro is facing an extended period of digging up and disruption as resurfacing of Boscawen Street gets under way – it could take up to five years – with gaps to support trade. There is also a sewage scheme to be undertaken – designed to separate storm water from sewage, and, of course, the town centre will be adjusting to even more buses rattling, shaking and buzzing about. I keep on proclaiming – 'We must create conditions conducive to trade!' The real question remains, as far as I am concerned – When and where will we put a second Sewage Treatment Works, and what sort of technology will we use?
May I take this opportunity to wish all members Nadelek Lowen ha Bledhen Nowedh da – Merry Christmas and a Happy New Year. We are all indebted to our Treasurer for her skilful management not only of the finances but also our budding relations with Falmouth, and of our Chairman – I would not be able to do this job without Caroline's support. She also quietly and assuredly makes sure that Edwina is content and supported – again, we are all grateful beyond words for her engagement, efficiency and cheerful provision of the central thread of the Society's life – our record – the minutes.
And, of course, we must thank Edwina for her work – and not just that – she always brings a major smile into the room and supports our events – she recently came to the Our Cornwall Rally in her lunch hour at Lys Kernow.
We are the sum of our parts, so thanks to all members for their contributions, deliberations, their good humour and passionate caring about what my old (and long gone) friend, Les Williams used to describe as 'Dear awld Trurra!'. I asked him once how, as a young man, he had kept going through the whole of the Second World War, in various 'theatres', coming home with his hair 'turned white' – he replied: 'Just the thought of gettin' ome t' dear awld Trurra. That kept me goin!' And so it does the rest of us.
Best wishes
Bert
November 2012
 This article sponsored by:

More from Reports and Opinion
Post Comment