Cap'n Swift – rumour or wraith? Or is it art?!!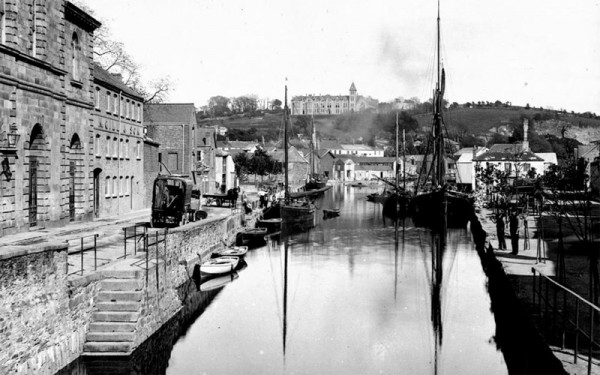 When Truro's sea trade was at its height and Sir Charles Lemon's Quay was a hub of activity the opes were the ways used by most stevedores and seamen to reach the impatient arrivals and departures quickly. In the 19th century Edward Street was home to a number of captains who, with their ships registered in Truro, drove forward trade and commerce.
One such skipper was Captain 'Swiftie' Swift. He was a happy man whose family were always sad to see him go to sea. Although his work kept them fairly prosperous, it was dangerous and arduous. Seafaring was a risky business, especially the coastal work in which Captain Swift and his crew specialised. His crew were hard working and keen, knowing that the more trips they made, the better money they would earn.
Many Cornish sailors had heard of, and held in awe, the Parson of Morwenstow, Robert Stephen Hawker, author of our national anthem, Trelawny. After storms which drove vessels ashore he strode amongst the black North Cornwall rocks in search of broken bodies washed up by the angry, ruthless ocean to set their souls to rest with a decent burial in his churchyard. It was a dark fate which they kept in the back of their minds and never spoke of to their anxious wives before setting sail.
Reluctant to leave his warm hearth Captain Swift was invariably late and his crew was constantly anxious that they would miss the tide and lose the chance to sail from this estuarial port. On one occasion the crew had tossed a coin and decided to leave without their Captain because he was so late. From that day on, whenever he was due to sail, Captain Swift would be seen rushing down Edward Street, skipping along beside the (then) open leat and scurrying down under the gothic arch and down the crowded ope. He would call for the crowd to part so that he would not miss the tide. He never missed giving the order to 'Cast Off!' again, although, on many occasions, he cut it very fine. After a time his favourite ope became known amongst his neighbours as 'Swiftie's Ope'.
Often, as the Autumn equinox approaches, when the tide is high, the moon is red and the mist is creeping around the quiet, half-lit buildings stretching back from River Street, those Truronians with a keen ear for the footsteps of a ghost claim to hear Old Swiftie's hurrying sea-boots striding down between the shops, through Swiftie's Ope.
For those who have pondered why this ope bears its name the mystery is solved. But for those who seek an ancestor's name or to tell the tale of Truro's seafaring days, Captain Swift is an elusive figure – a family man, always in a hurry, always nearly missing the tide, always half-turning to wave adieu to a loving family.
Then again, perhaps a group of mer-folk or knockers crept before dawn through the streets and thought to play a game with curious Trurrer boys and maids, and nailed up a sign………! But, there t'is, all th' same! Or, is Swiftie's Ope art? !
Bert Biscoe
February 2008.
Post Comment