Chairman's Report – October 2012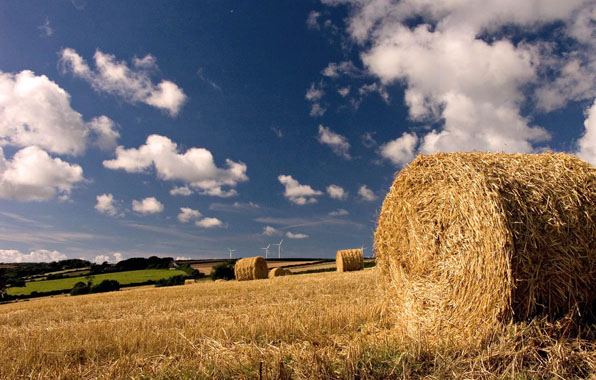 Autumn has inserted itself between the showers! The magpies in the tree behind my house rattle like a pair of over-excited snipers, whilst the battle between the hawthorn and the laurel out-front has ended in a draw – the thorn is shedding leaf in preparation for next year. Most excitingly, Mrs B and I went for a walk at Trenance (halfway between Bedruthan and Porthcothnan) only to find four young choughs filling the sky and rifling the soft turf with the spirit of Arthur the Bear, the symbol of universal order. Seeing such things remind me that we, as a Civic Society, hold in our civic heart an intuitive commitment to ensure that the rhythms and cycles, the changes and the constants of nature need always to be there in the order we try for in our town, our 'civil consciousness'.
The people of St Erth have fought a tenacious battle against Cornwall Council's proposition for a park and ride scheme to serve both St Ives and Hayle. As usual, the Council has taken an engineer's hammer to crack a designer's nut and the product is a massive reorganisation of landscape, infrastructure and scale, which the community of St Erth do not feel serves them or enhances their way of life. Part of civil consciousness should, in my view, be an ethical code rooted in values which acknowledge scale, landscape and contour, design approaches which absorb and evolve tradition into modernity, respect and empathy – all values that we see gushing out of the portals of Lys Kernow!
St Erth's battle has given rise to an Ombudsman's Report which has ordered the re-run of the decision-making by the Planning Committee. St Erth asked the Ombudsman to consider if the committee was properly advised in accepting a developer's consultant's report asserting that the MAFF Land Classifications were wrong, and that a more accurate classification of agricultural grading would reduce the value of the land required for the development.
The Ombudsman has investigated and found that an alteration in Land Classification requires a formal application to Natural England and a full assessment procedure to be carried out. On the basis of a lack of formal re-classification the Ombudsman has ruled that the Committee was mis-informed by the Planning Officer when he advised that the reduction in grade was a material factor for the Committee to weigh in its determination.
A similar advice was proffered to the Strategic Planning Committee in the case of the Work House Cross Waitrose/park & ride application. I have written to the Chief Planning Officer, Mr Mason, to ask what he intends to do about the TEDC decision in light of the Ombudsman's Report to St Erth. I have, as yet, received no reply.
Members should note that the consent for Work House Cross has not yet been issued because discussions regarding a suitable level of payment to enable projects to be implemented that mitigate the trade loss projections for the town centre has yet to be agreed. In Helston and Penzance sums of £800k – £1m have been required for such work. Here in Truro, with a significant schedule of impacts to trade, the sums we are currently discussing are comparatively derisory.
People in Probus and Tresillian remain puzzled by the circulation of a letter from their Cornwall Councillor recanting on his support for the Work House Cross development on the basis that he should have paid more heed to the value of the green fields. You may have read about this in the West Briton (if not go here).
Meanwhile, Members may have missed an odd but revealing article in the business pages of the Western Morning News in which the Principal of the new owners of the St Austell town centre White River development, which has just been purchased, is setting out his ambitions and inviting one and all to join his company in campaigning against a newly revealed out-of-town retail development, featuring one of the largest Sainsbury stores this side of Bristol. Current applicant-supplied assessments of trade impact suggest a 6% loss of trade for Truro if the development occurred – other central Cornish towns are similarly affected.
We should remember the degree of trade loss which is projected to be caused by Waitrose, which is the reason why we are negotiating for a mitigative payment. We should also take account of the proposals for foodstores at Three (or is it now, as John Dyer suggests, 'Four') Milestone, as well as the current impact of out-of-town shopping – there is a cumulative trend here which we should all be growing increasingly concerned about. The problem is, as Truro City Council is finding as it proceeds with the Neighbourhood Plan, there is nobody at Cornwall Council with whom to hold a strategic dialogue about the future evolution and continued success of Truro – there is merely an assumption that it is 'Doing ok!' (some perhaps thinking that it may be doing 'too well' at the expense of other places!). It does not do to be complacent.
Therefore, it is doubly important that we support Neil Scott in his new mandated role bring together a think-tank to address branding and future development. Branding is very much about ascertaining how people with an interest in Truro perceive it, and then comparing those perceptions with how we wish to be seen, and then finding ways and means to try and marry the two together. It is a constantly moving set of values, responding as they must to things going on around us, but there are also fundamental constants – of which the battle over pedestrianisation, or the assertion of Truro as a community which inspires, tolerates and cares, or a town of trees and green contrasting with thebuilt quality. Perhaps Truro Civic Society will play a role in this think-tanking (or should that bethinking-tank!). I hope so.
One of the tools in our contribution to campaigning and thinking must be our website. Ian Hibberd has agreed to continue as our site manager. The site is gaining notice, but it constantly requires content – so please, when you have a thought, ask yourself if it would be well-expressed on the site – I'm keen that we should allow the site to be a forum for thinking, for challenging, for celebrating, for protesting, for bringing the otherwise unrelated together – we have fundamental liberal (in the nonpolitical sense!) values and Ian is an excellent site manager (actually, I think the description 'manager' does not really capture his intellectual, creative and marketing role – 'Energiser' would be more accurate).
To help develop the site and for it to pay its way, as I hope you heard from the between-meetings consultation, we have attracted sponsorship for the site. Let us welcome WearHouse, whose Principal is Nigel Knuckey, and Simon Hendra from Lemon Street Market/Lander Gallery as website sponsors. This is a new venture for us, and will, I hope enable us to keep the Society, via its website, at the heart of things and in the vanguard of Truro life.
Truro City Council is advancing with the Neighbourhood Plan. The advent of the Director of Public Health at Cornwall Council is a very important change. It means that all Council policy and action will be subject to a public health critique. I have been able to introduce the Director to Mr Gazzard and we have received very helpful advice about why public toilets are important – it is very blunt and to the point, but also very true! If towns don't provide toilets, incontinent people won't come to town. As people live longer active lives, as the internet competes for trade, public toilets are even more important than when they were constructed as a means of managing lethal epidemics of diphtheria or cholera – which all makes the Council's pathetic budgetary lather seem quite pathetic. The Director of Public Health is currently having a look at the sewage system, at the request of the Neighbourhood Plan Steering Group, in order to ask whether, over the next 20 years, and with such a major increase in development and population projected, Truro needs a second sewage treatment works.
Into this discussion I have injected the view that we should also be promoting a new partnership between Cornwall Council and South West Water to jointly dispose of two critical elements of the overall waste burden by developing an anaerobic digester to take both food waste and sewage sludge – and to claim the bi-products (heat and energy) for the town to enable us to improve competitiveness and to ensure that we can supply both where deprivation might cause unacceptable hardship as energy prices persist in rising. Needless to say, trying to get two large public bodies to talk to each other about the wellbeing of a community is like doggy-paddling through mud (or, indeed, sludge!). In my view this is a basic issue about community resilience and strategic design – as Mike Jenks pointed out some time ago when we sponsored his lecture.
Falmouth Civic Society is inviting us to share in their birthday celebrations. Caroline knows all about this – so far, it is proving to be a productive and pleasurable partnership – let's make it happen! There is tons more – 15/16 St Clement Street (Tapp's Row) is now a builders yard. There is no building of five cottages with rear parking and gardens going on – it is a disgraceful neglect. The Glass House site in Kenwyn Street remains derelict, with the Conservation Officer coming under pressure to relent – no way, Jose!
Truro's done incredibly well in Britain in Bloom. Well done to Richard Budge, his staff, the BiB Committee and all the volunteers who are really gaining momentum and, in the process, making those brand values about creativity, caring and inclusion become a living reality – all exciting! Daphne Worraker and I undertook our protest regarding platform tickets – and spent a happy halfhour on the Station whilst the WB photographer was ordered not to stand on a bench to get a good angle. I expect to meet FGW later in the Autumn. Meanwhile, we have said goodbye to Kimberly Middleton, whose reportage for the West Briton meant reading the minutes of the Civic Society and picking up on stories from us – she has gone to Brighton. I sent va message which I gather was read out (in the tones of a Bishop, I hear!) by the Editor at her leaving 'do'.
O! And I'm sad to say that the blue mullet in the River Allen have struggled this year – they are still there but in small numbers and looking bluer than you might expect – let's hope next year is a Blue Mullet Year!
Best wishes, B
This article sponsored by:

More from Reports and Opinion
Post Comment