The Truro List – please comment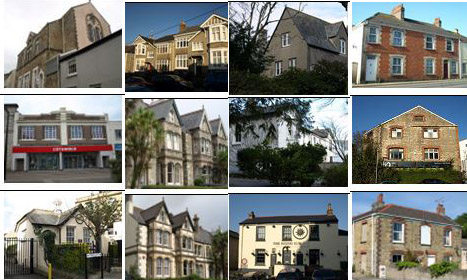 ---

Following the successful introduction of the Truro & Kenwyn Neighbourhood Plan, and the previously successful process to develop a Truro Conservation Area Management Plan, there is now the opportunity for Truro to compile a 'Local List'. This project is being undertaken jointly by Truro City Council and Truro Civic Society, with the very able professional engagement of Patrick Taylor, a conservation consultant and retired local government Conservation Officer. Patrick has as very strong connection with Truro and has undertaken a lengthy appraisal of buildings within the Conservation Area which are not listed but which, for any of several reasons, are deemed worthy of a degree of protection and future development guidance.
A 'Local List' is a formal instrument which can be adopted by a local authority as an addition to the Neighbourhood Plan. It is an advisory instrument designed to safeguard aspects of the built heritage which are deemed to be locally valuable. This means that structures included on a Local List may be of architectural merit (but not so much so as to be listed), or may have a story or association which is locally valued, or may simply be a defining aspect of a landscape (like a farmhouse as a locally useful landmark).
The process undertaken by Truro City Council and Truro Civic Society has reached the stage where a draft schedule of proposed buildings and structures for inclusion on a local list has been developed, with photographs and some short descriptions. This has been subject to some consultation at various local events towards the end of 2017.
The draft schedule has now been added to the Truro Civic Society website to allow the community to have a good look and to make comments. There may be buildings or structures which have been left out, others that should perhaps be removed from the draft list and for all any local information about architects, construction dates, materials or local associations would be most welcome as the better the descriptions, the more reliance can be placed on the list when dealing with planning matters.
There is the facility on this page to have a look at the draft list and to comment. All input will be carefully considered before the final draft is agreed and put before the Truro City Council Planning Committee. If it approves, the content will be sent on to Cornwall Council with a request to process it, so that the Truro Local List becomes a formal Policy Guidance Note to the Neighbourhood Plan.
This will mean that planning officers, developers and those who, for one reason or another, have an interest in an application, can use it as a guidance tool to ensure measured and appropriate development occurs which does not materially affect the quality of the Conservation Area, whilst also not constraining the need for well-modulated change and development.
Bert Biscoe Chairman, Truro Civic Society
The List is an open process and proposals are requested so if you have any suggestions do please comment below:-

PROPOSED LIST:- See below details of the properties under consideration
Click on the street in which you are interested.
---
---
Agar Road, St. Austell Street, Malpas Road, James Place, Town Quay
---
Trehaverne Terrace, Kenwyn Road, Moresk Road, Cathedral Close, Old Bridge Street
---
Campfield Hill, St. Clement Street, Truro Vean Terrace, The Avenue
---
Dereham Terrace, Chapel Hill, City Road, Kenwyn St., Albert Place, Daniell Rd. (2)
---
Gloweth, Treliske, Highertown, Avondale Road, Station Rd.
---
Coronation Terrace, Railway Station, Richmond Hill, The Crescent
---
Kenwyn Road, Comprigney Hill, Kenwyn Close, Higher Trehaverne, Trehaverne Place
---
The Crescent,Crescent Rd.,Harrison Ter.,Adelaide Ter.,Stratton Ter., Parkvedras Ter.
---
Tregolls Rd, Penair Lane, Trennick Lane, Waterloo Place, St Clements Hill
---
Boscawen St., Duke St., St. Mary's Street, King St. Pydar St., St Nicholas St., River St., The Leats, Castle St., St Georges Rd., Hendra, Victoria Park, Claremont Terrace
More from Architecture
Post Comment