Coosebean Cycle Path Opens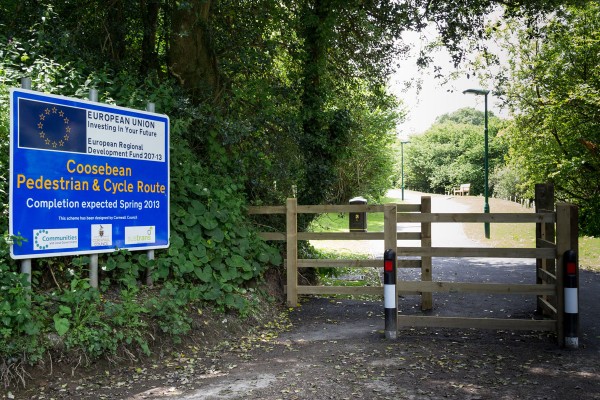 Truro is famous and greatly valued for its inter-relationship with the natural world and its rural setting. Nowhere in the town is this more obvious than in the centuries old love affair between Truronians and the Coosebean Valley. Now, a new opportunity has materialised to enjoy this beautiful place and to keep fit and healthy at the same time.
The youthful voices of Treyew School Choir silenced the blackbirds at Coosebean recently as they celebrated the completion of the new Coosebean cycle path which has been recently completed by Cornwall Council's arms length contractor, CORMAC. It has been widely welcomed both for the quality of its surface and reasonable gradient, and for the beauty of its setting – a setting which highlights the importance of the woodland, meadows and riverbank through which the path passes.
The land was bought by Cornwall Council to enable the cycle path, with the intention to conserve the remainder as an informal amenity for the community of Truro. Discussions on transferring the land to Truro City Council, whose Parks Department, under Manager Richard Budge, is eager to take on management of this major new addition to Truro's leisure facilities and natural environment, are ongoing. We must hope they are completed in time for management works to enable safe and interesting access can be undertaken during the winter months.
Reports are that the community of Malabar is greatly enjoying walking, relaxing and even – sometimes – cycling along the new track, are appreciating the low-key and well-controlled lighting at night, whilst cyclist-workers at Treliske and Threemilestone are discovering a new pleasure in getting to and from work. The wildlife of Coosebean has grown used to this new and discrete way through its domain and sightings are avidly discussed on the strategically situated benches.
So, transfer to the City pending, it seems Cornwall Council has done something right – for once! Blimey!
This article was sponsored by:-

More from News
Post Comment