Vote Yes on November 10th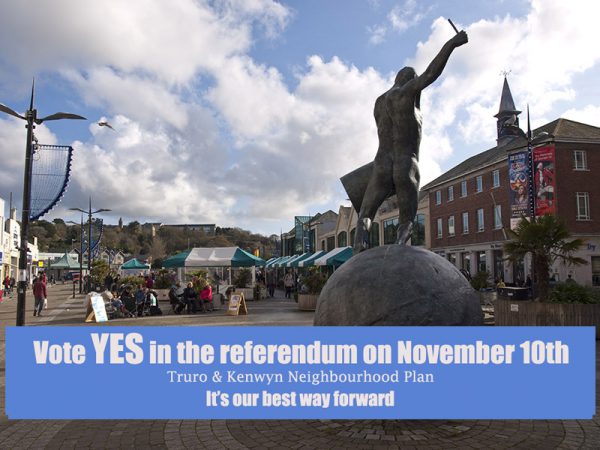 The Neighbourhood Plan is an important Planning document produced by the community to set out how planning decisions should be made in the area. Many people and organisations in the Truro and Kenwyn area have worked on this document since 2011; and there was widespread public consultation in 2012 and again in 2015.
The Plan aims to deliver; –
Truro & Kenwyn are vibrant, safe, and pleasant places with adequate opportunities for work, fulfilment and enjoyment
A good mix of facilities ,services, and open spaces for local people
Encouragement of community cohesion
The framework to help people of all ages and backgrounds find fulfilment, happiness and safety in their communities
A variety and quality of life in our communities which will be good, not just for us, but for those who travel to work here and for those who visit us
New developments which blend carefully and accessibly into our rural surroundings
Full and dynamic participation in tomorrow's Cornwall – fostering the spirit of "onen had oll" – one and all
Most of all, an environment which can provide the opportunities needed to persuade young people to make their lives here.
During the week prior to the 10th November you will receive a leaflet, delivered by Royal Mail, which explains more about the Plan, and what it hopes to achieve. There are also opportunities to view the entire Plan, either at www.trurokenwynplan.org or at Truro library, the Tourist Information Centre, Threemilestone or Shortlanesend Post offices.
Please support the Plan by voting YES on November 10th.
More from News
Post Comment